Looking for Uniform embroidery Oldsmar Florida?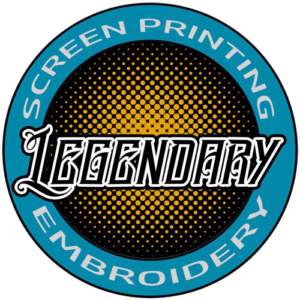 We are your local experts for Uniform embroidery Oldsmar Florida!
When it comes to outfitting yourself or your party for that special occasion, nothing stands out more than custom apparel. You deserve a unique wardrobe to match your unique personality! Whether you're pursuing fashion or trying to brand your business as different from the competition, call on Legendary Screen Printing for Uniform embroidery Oldsmar Florida to make your visions reality.
How much do custom t-shirts cost?
Custom t-shirts are the best way to promote your unique business or organization. But frequently, people consider how much they cost. Below, we'll expand about the cost of custom shirts and apparel, so you'll be prepared to make your first order. When calculating your cost, the quantity of items being ordered is a major factor. When purchasing a low quantity, be prepared to pay closer to retail prices. For instance, 3-8 shirts may be near $20-$30.
As such, this price is fine if you're seeking a shirt for yourself. However, if you are trying to outfit a group for an event where the individuals are paying for their shirts, such as a wedding party or family reunion you may want to consider keeping the cost down. Purchasing excess or bulk will help keep the cost down under these circumstances.
The least expensive shirts are white shirts. White shirts can look clean and crisp, but they might not be what you need for your company branding or party. Similarly, the more colors on a graphic the more expensive the shirt will be. For instance, a white shirt with a black graphic will be the least expensive to have manufactured.
The need for Screen Printing, Custom Embroidery, and Direct-to-Garment Printing
From our inception, we knew advertising a brand with custom apparel was essential. After testing multiple business promotions, we discovered that the best response was through local t-shirt printing and t-shirt contests. When searching for custom shirts in the Tampa Bay area, we realized that the custom clothing market was lacking good customer service and timely turnarounds.
T-shirt printing and graphic design has been a passion of ours for more than a decade, and we are here for all your branded apparel needs. Our custom embroidery services include everything from custom hats, aprons, cloth bags, jackets, polo shirts, and marine upholstery.
Let us help you make your business Legendary! Contact us for T-shirt quotes and inquiries and feel free to check out our showroom for clothing samples and apparel styles. We offer brands like Gildan, Next Level, and Bella Canvas.
We can help with Uniform embroidery Oldsmar Florida.
Screen Printing to Broadcast Your Message
Legendary Screen Printing offers a huge selection of apparel that can be printed with your customized designs. From the simple addition of your company name and logo to a more intricate combination of artistic and marketing elements, our graphic designer can customize your apparel with ease. You may ask where is the best screen printer near me? Ask no longer, Legendary has got you covered.
Aside from Uniform embroidery Oldsmar Florida, high-quality screen-printed apparel is beneficial for business marketing, organizations aiming for uniformity, and individuals looking to upgrade gift items or just personalize their stuff. Whichever of these you want, our Tarpon Springs apparel printing experts can design and produce it for you.
From personalized gifts to team uniforms and promotional items, the Screen Printing you need will be delivered at a quick turnaround with guaranteed high quality. Ready to get started?
Embroidered Apparel for a High-End Look
Custom embroidery is an outstanding way to create a professional, connected look within your group. Whether you want to offer personalized polo shirts for a golf tournament or to create a sharp, cohesive look for the staff in your business, we can design, produce, and deliver exactly what you have in mind.
When you choose custom embroidery, your design will be digitized via computer and then stitched directly onto the item of your choice with a high-quality, state of the art embroidery machines, achieving a professional look like no other.
Visit us with your ideas or consult with one of our experienced staff members to design the perfect look for your needs. You are guaranteed the highest quality in all our many personalized items, and delivery that's on time, every time.
Legendary Screen Printing and Design offers the highest quality custom embroidered products available throughout the Tampa Bay area and beyond.
Becoming Legendary: Your local Uniform embroidery Oldsmar Florida experts.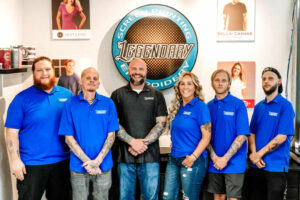 In the summer of 2001, aspiring Pinellas County local musicians Mitch and Puff met on the Tampa Bay music scene. For many years they played alongside such bands as Sevendust, Earshot, Taproot, Flaw, Days of the New, and countless local bands, all while managing various tattoo shops.
After working with local t-shirt companies for band shirts, they realized the advertising value of printed apparel. The time had come to start Legendary Screen Printing and Embroidery. In 2015 the dream became a reality when they opened the doors in Tarpon Springs, Florida.
At Legendary Screen Printing, our love of music, artwork and tattoos has inspired us to utilize our talents to help people promote their brands on an ever-growing platform and scale. We have been providing quality printed apparel and custom embroidery for 10 years and continue to print for hundreds of clients in the Tampa Bay area. We have a passion for creating custom t-shirts and logo design as well as being involved with local brands that are looking to expand their audience. Call us today or come visit our facility in Tarpon Springs and let us design something special for you.
We started Legendary Screen Printing by offering custom screen printing. As our business evolved and grew, we came to offer custom embroidery and direct-to-garment printing for small businesses, school uniforms and teams. As well as, sporting events, churches, clothing stores, and anyone looking to promote their brand.
Call Today for Uniform embroidery Oldsmar Florida!